Keep your calendar up to date with upcoming sports events in Minneapolis
More Info »»»
Submit your RFP (Request for Proposal) and we'll distribute your request to the sports venues that meet your requirements.
More Info »»»
Home
SPORTS MINNEAPOLIS
Six professional sports teams. Four distinct seasons. Three major stadiums. Two two-time champions. One sports city: Minneapolis.
At the core of this city beats the heart of a sports fan. Professional teams? We've got five. Major collegiate feel? How about the University of Minnesota. Amateur sports complexes? We have the Minneapolis Convention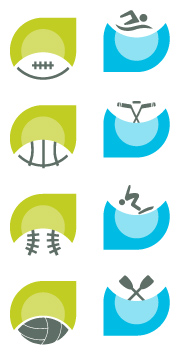 Center and the world's largest amateur sports and meeting facility. Our passion for sports unites us all, as we're the #1 city in the nation for volunteering. Even our light rail system connects every major sports venue. Frozen ponds or green grass, sports march on. That's why we're the City by Nature. Our seasons change, but our love of sport never fades, which is why you won't find anyone as committed to the success of an event as Sports Minneapolis.
Sports Minneapolis is excited to partner with the other Cities of the Big Ten to promote sports travel to our great destinations. Just as other fans travelled to Minneapolis this past summer for great sporting events such as the USA Volleyball Girls National Championships and all the events connected with the Major League Baseball All-Star Game, we look forward to Big Ten fans traveling to Minneapolis to enjoy the best of Gopher athletics! Ski-U-Mah!
Sports Minneapolis is always looking for people to help volunteer. If you are interested please visit our Volunteer Opportunites page >>>